Donald Trump is The Joker for the Republican Party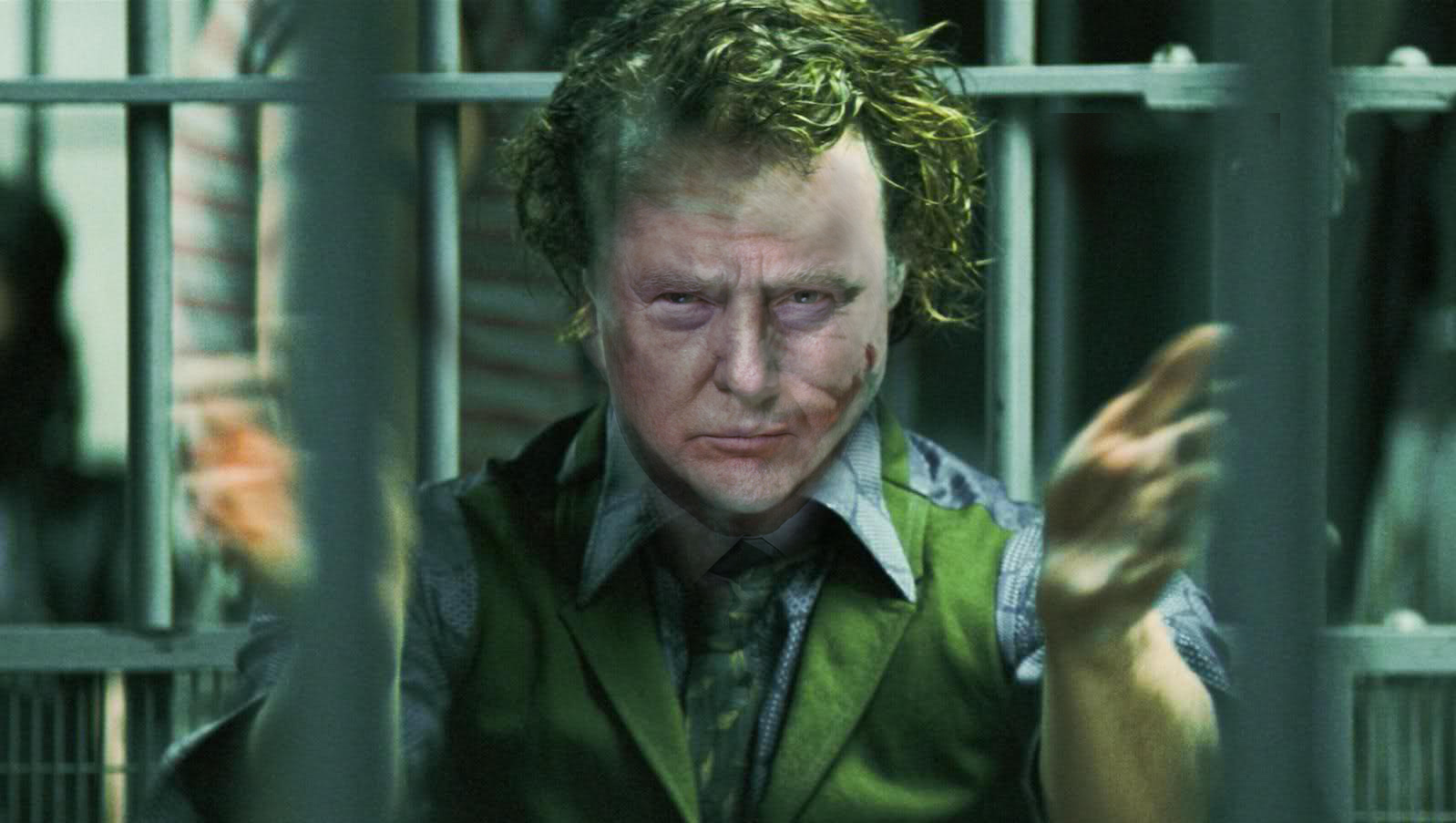 We're witnessing something I don't believe we've ever seen in American Politics. The republican party is eating itself alive and the most surprising part is that this all started a long time ago.
Over the past 20 years, the right wing political machine has continuously fanned the flames of fanatical rhetoric beginning with conservative talk radio. I know because I was an avid listener of it in the early 2000s. Rush Limbaugh from noon to 3, Sean Hannity from 3 to 6, and if I was ever in the car between 9-11pm, there was Michael Savage. The man who's viciousness was second only to Alex Jones. There, liberals weren't just people on the other side of the political aisle, they were specifically the enemy, they were everything that's wrong with this country. They had mental disorders, they were traitors, and some suggested even demonic. Terms like communist and socialist are thrown around without any consideration of their true meaning. Dehumanization was the beginning, but then it was combined with the eschatology found in a majority of Evangelicalism. The President became the Antichrist, liberals are the ones destroying your country, and everything you know and love about America will be gone forever. It ended up becoming an echo chamber of madness where any opposing viewpoints were squashed like bugs. So like how 2+2=5, if you repeat something enough it will eventually be accepted as true and normal.
In 2002, I started listening to Glenn Beck's radio program from 9am-12pm. I mostly enjoyed it more for his humor at pop culture in general rather than politics, but things started to change within only a few months. His show took a hard right turn and became almost entirely political. I followed along where 2004 was a political Rollercoaster and 2008 felt like it was practically the beginning of the tribulation. I was a tea partier and the rapture was imminent because a socialist, communist, muslim, atheist, terrorist from Kenya who was about to become President and make Christianity illegal in United States.
Yes, and that was only 2008.
The next few years in college, my political beliefs shifted, but if you look at a majority of the right wing following, others haven't, and some have gotten worse.
Where Obama showed up practically out of nowhere, Hillary Clinton has been in the public eye since 1992, before Fox News even existed. This has allowed more time to build up a giant case against her. Some scandals stick and some don't, I'm not going to walk through every single one individually here, but the point that I'm trying to make is that "Hillary Clinton is the single greatest threat to America" has been a talking point reinforced so much more than Obama even was. You'll even hear some pundits occasionally bring up her "landing in Bosnia under sniper fire gaffe." It doesn't even matter if the scandal sticks or not, just keep discussing them as legitimate regardless of facts and they reinforce that same point. 2+2=5.
With the proliferation of online platforms, now anyone can have a blog (including myself). This has had a multiplying effect on anything that affects culture. In comes Conservative Tribune, Young Cons, World Net Daily, Frontpage Mag, and almost an infinite number of other independent, click bait driven wordpress and blogspot blogs that aren't held up to any sort of journalistic standard at all. Amazingly, most of the posts are all written by the same man named admin. That's a joke, but the problem is these small independent internet magazines are often standing on the other side of the line that separates fact based reporting from off the wall conspiracy theories. For example, look at this World Net Daily Post that claims that President Obama has an Arabic wedding ring that praises Allah. Then compare it with a higher res photo here of the ring to show it's simply the design of the ring. A lo-res photo doesn't automatically prompt a giant article combined with photoshops and Arabic translations without some sort of batshit insane element present as well.
This has created a perfect set of conditions. It does not matter who it is, the republican population will elect anyone over Hillary Clinton no matter how absurd they are. It's almost as if they actually tried to go out of their way to do just that. Where John McCain was too easy and didn't call Obama a Muslim and Mitt Romney was too soft, both of those failures caused the GOP voters to go back to the drawing board. Perry, Cruz, Kasich, Rubio, they're all the same, but this Donald Trump fellow, he's an outsider, he says what he truly believes, you gotta respect that! He's not politically correct, that's something that all of these talk radio pundits have claimed is the problem with our society, so lets go all in.
Somewhere along the line, practical things like policies, plans, legislation, and even principles were traded for absolutes such as characteristics, entertainment, appearance of strength, and winning at all costs. Look at the 2nd Presidential debate for proof, his followers will reference his one liners and insults as proof he won the debate rather than any serious discussion of policy whatsoever. The bar has been set so low, that even a zinger such as "Because you'd be in Jail" causes his followers to tweet #MicDrop.
Donald Trump could have repeated Pee Wee Herman's famous line "I know you are but what am I?" to Hillary as a response to her discussions of his temperament and conservatives everywhere would have given each other high fives in celebration. Are we forgetting that this is about picking the person who is supposed to oversee the almost infinitely complex variables in a system that is our Government?
The constitution used to be the Holy Bible for conservatives and Donald Trump has shown himself to be not just willfully ignorant, but in some ways, in direct opposition to many of the amendments in the constitution. The very thing Donald Trump proposed in the second debate, pledging to jail his opponent was literally one of the articles of impeachment against Richard Nixon. It does not matter anymore, because to them, "Hillary Clinton is the single greatest threat to America". Morality doesn't matter, because there is a holocaust of unborn babies going on. As long as Donald Trump shows himself to be somewhat pro-life, it is literally a no Brainer in the truest sense of the term.
Donald Trump says he could shoot someone on tenth avenue in New York City and his follows would continue to support him. At first, it was considered absurd, but I now actually believe him, because again,"Hillary Clinton is the single greatest threat to America."
On October 7th, when a tape of Donald was released where he humorously discussed an attempt to seduce a married woman and also how he was able to grab a woman's genitals without consent, it was only then did the leaders in the GOP finally understand who they are dealing with. A man so reprehensible, that even Hillary Clinton has somehow become a safer choice.
Donald Trump is not a politician, he doesn't have any basic understanding of policy or even the legal structure of our government. He doesn't have a shred of decency and somehow he's fine with his own daughter to be referred to as a piece of ass. The one thing he does have however, is the unfailing, and unlimited support of a majority of the GOP base. Some of the GOP leaders are no starting to panic because they have a moral compass and can actually see the conundrum here.
Paul Ryan is a beautiful example of this. It's easy to see that he is disgusted by Trump and morally he cannot support him. However, it's too late, the GOP base has been radicalized to the point where if he rescinds his endorsement, he's risking his own support since a majority of GOP voters desired to stay behind Trump. This was even after the tape was released. Right now, any rescinded endorsement makes him look likes he's caving to political pressure, when it's actually his own morals. He's actually caving to political pressure right now by not rescinding his endorsement. It's a fascinating paradox. To break this, Paul has decided to play gymnastics and continue to endorse Trump, but just not defend or campaign with him.
Even Glenn beck, who is part of the extremely small #NeverTrump movement argued that Donald Trump is so morally wrong that even Clinton is a better option. This practically gave me vertigo given that this would be like Bill Maher endorsing George W. Bush. However, the most fascinating thing about all of this is if you read the comments on Glenn Beck's his own Facebook page. His own listeners and fans, the same people he incited to their current political location are tearing him to pieces. The proles! The proles are rising up!
Others have found themselves contributing to the madness. For example, look at Ben Carson and Rudy Giuliani. Rudy claimed on national television that groping a woman's genitals without consent is normal locker room talk. Ben Carson, the man who was all pious through the primaries claimed that the outrage is misplaced simply because we just haven't heard enough men boasting of their sexual conquests. Somehow, we now have politicians claiming that non-consensual sexual conquests are normal.
This is chaos.
Donald Trump is like the Joker in the Dark Knight, he's simply a wild dog let loose by the fanatical electorate that has been slowly radicalized over the last 20 years by the right wing to the point where the house is on fire and most of all the GOP leaders are now locked inside. The chickens are coming home to roost. If Hillary Clinton's 11 point lead holds, it's no stretch of the imagination that she will probably win the election which begs the bigger question. All these people aren't going to just put down their pitchforks and go home after November, so who's going to end up being Bane?